Thank you to our loyalPatrons and Supporters
Patrons
We are pleased that Mark Radcliffe a local Bolton lad and famous radio broadcaster is our first Patron of Rivington Heritage Trust. Mark is a fabulous Patron and we are delighted that he not only agreed to become a Patron but is one that actively supports us in achieving the Trusts ambitions and objectives.
Mark receiving his certificate as a "Squarea Sponsor" at a very frozen Japanese lake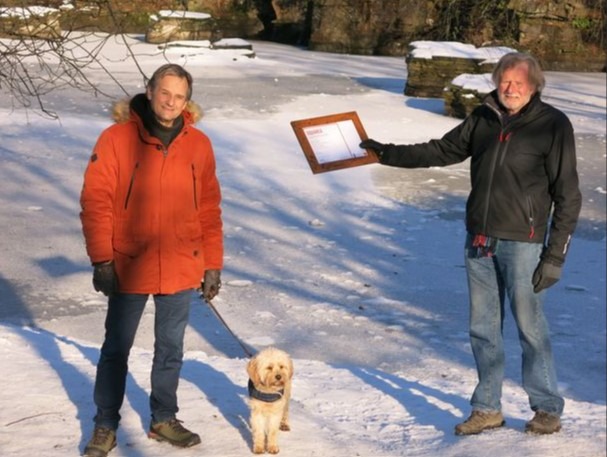 We are extremely grateful to many local businesses and organisations who support the team at Rivington and our events.
Please give them your support on the high street.
Whether it is sponsoring events, providing refreshments, being a collection point or donating kit, the team continues to be overwhelmed by your support.
Thank you to the fabulous outlets who stocked and sold Christmas Cards for 2019 and calendars for 2020.
M&O Fish, Horwich
Lotties of Belmont, Belmont
The Coffee Shop @Heaton, Bolton
The Little Chippy, Adlington
The Bay Horse, Heath Charnock
Marshalls Florist, Chorley
The Rivington, Rivington
The Village Tea Room, Wheelton
The Cottage Tea Room, Brinscall (from 10th November)
We thank the following for their most recent help:
6th July, 2019  – The BIG Lever Park Litter Pick
Travis Perkins Horwich – 15 pairs of gloves and 15 Hi-Vis vests
Wickes Chorley – Garden bin and 10 pairs of gloves
Jewson Chorley – 20 pairs of gloves and 10 Hi-Vis vests
Councillor Kim Snape – £125 donation
ASDA Horwich – 80 bottles of water and 80 snack bars
Morrisons Bolton – 80 snack bars
Tesco Chorley – 80 bananas and apples and 80 snack bars
21st June, 2019 – The Summer Solstice
Tesco Horwich – 200 bread buns/fingers
Home Bakery Horwich – 50 burger buns
Sainsbury's Bolton – 100 various soft drinks
Support us
There are lots of opportunities to support the project.  You could sponsor a cask of ale at our next event, or sponsor the food at a conservation day – we're open to your ideas! Email us at explore@rivingtonterracedgardens.org.uk