Our plans
In 2016, Rivington Heritage Trust, as part of a partnership with Groundwork Cheshire Lancashire and Merseyside and United Utilities successfully secured £3.4 million in funding from the Heritage Lottery Fund as part of a three year £4.2 million restoration package to conserve and revitalise Rivington Terraced Gardens.
We won't be trying to restore the Gardens to their original plans – this would be far too costly both to create and maintain.
People have also grown to enjoy the Gardens in their current wooded state.
We want to make sure the structures can be safeguarded and carry out work to allow the spirit of Mawson's original design to remain.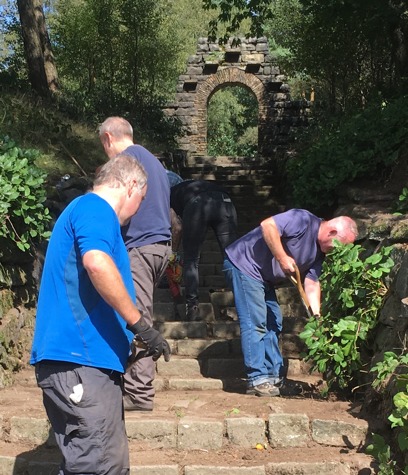 Our Aims
Our focus is on stabilising and consolidating existing decaying structures within the Gardens, so that they can be enjoyed by generations to come:
The Gardens contain 11 Grade II listed structures, including the Pigeon Tower, the Seven Arch Bridge and five summerhouses. Each will have a complete facelift during the capital work and will be opened for visits as part of events and open days.
The Italian and Japanese Lakes are being drained, de-silted and re-lined before being refilled again, ensuring their long term future.
We are undertaking a comprehensive programme of path and drainage work to improve access to and around the gardens and will be also be introducing a package of minor changes to improve accessibility.
We are working with conservation volunteer groups to bring the woodlands on site into better management to encourage a greater number and variety of plants and animals.
We are undertaking a wholesale review and improvement of the signage and interpretation of the site's landscape and heritage.
The improvements to the Gardens will enable them to be better managed in the future, safeguarding heritage for generations to come.
A programme of skills development and volunteering is underway and will capitalise on the park's unique and diverse features and establish it as a living and vibrant resource for local people to become involved, improve their skills and to help preserve our much loved Terraced Gardens.
Groundwork CLM currently acts as accountable body for the partnership, administering the grant monies, delivering events and volunteering with the growing support of the Friends of Rivington Terraced Gardens group.