Places toPark, Eat & Stay
Rivington Terraced Gardens sit within the 400 acre plus Lever Park.  It's a spectacular landscape, crafted in part by Lord Leverhulme and TH Mawson.  Today the main road through the park is Lever Park Avenue which becomes Rivington Lane.
The road loops up from Horwich into the park before meandering back over the reservoir towards Chorley.  A second road, Sheephouse Lane, leads off from Rivington Lane adjacent to Rivington Village Green and heads up and then over the hill towards Belmont.
Parking
There are four car parks within Lever Park and a number of other small lay-bys which also get used.
The first parking spot is a left turn on Lever Park Avenue just after passing the imposing Rivington High School on the right hand side (when approaching from Horwich).
The car park can hold around 60 cars.  From here, a short walk will lead you to Liverpool Castle, a replica folly built by Lord Leverhulme, and Lower Rivington Reservoir.
The next car parks are located about a quarter of a mile further along Rivington Lane. The first is at Great House Barn and is on the left as approached.  It can hold around 60 cars and is located next to Great House Barn Coffee Shop, Go Ape, the Information Centre and a public toilet block.
Opposite Great House Barn (a right turn off Rivington Lane) is a long parking area running up the hill towards Rivington Hall and Rivington Hall Barn.  Cars can be parked along the left hand side of the approach road and also at the top, adjacent to Rivington Hall Barn, although preference here is given to attendees of functions at the hugely popular wedding and event venue.
The final car park is Lower House Car park which is located off Sheep House Lane.  If approaching from Horwich, Sheep House Lane is a tight right turn off Rivington Lane, adjacent to the village green.
Sheep House Lane runs up the hill towards Belmont, passing a cattle grid and after two more turns the car park is located on the right. The car park can hold up to 80 cars and is the nearest one to the Terraced Gardens.
Parking is free but visitors are requested to pay a small donation to the project by text. Text RTG2 to 70460 to donate £2 (text RTG1 to donate £1, or RTG5 to donate £5 etc.).
Places toEat
There are a number of coffee shops and cafes throughout Lever Park.  All welcome walkers and cyclists, and most also welcome dogs.
Most cafes have limited opening hours and/or can be hired for private functions, please check their websites for more details.
Great House Barn – Thought to have been built in the 16th century, Great House Barn serves wonderful hot and cold food all year round. It's right next door to the Visitor Centre.
The Little Tea Room at Higher Derbyshire's – Hidden away within the park, this little gem of a tea room only opens on Sundays and is located behind Rivington and Blackrod High School along the tree lined lane
The Village Green Tea Room – Located next to Rivington Village Green, the traditional tea room welcomes all comers.  It has a traditional menu and has two wood burning stoves to huddle around after a winter walk.
The Rivington – From its prominent position overlooking the reservoir, the Rivington pub has a bowling green, plenty of outdoor seating and a tea room menu including locally produced ice cream. There's also a bar serving local ales.
The Café at Spring Cottage – offers an organic, creative menu and a various hot drinks.  It is located between the Information Centre and Rivington Village Green on the right hand side of Rivington Lane (heading toward the village from the Information Centre).
(Photo credit: The Little Tea Room at Higher Derbyshire's.)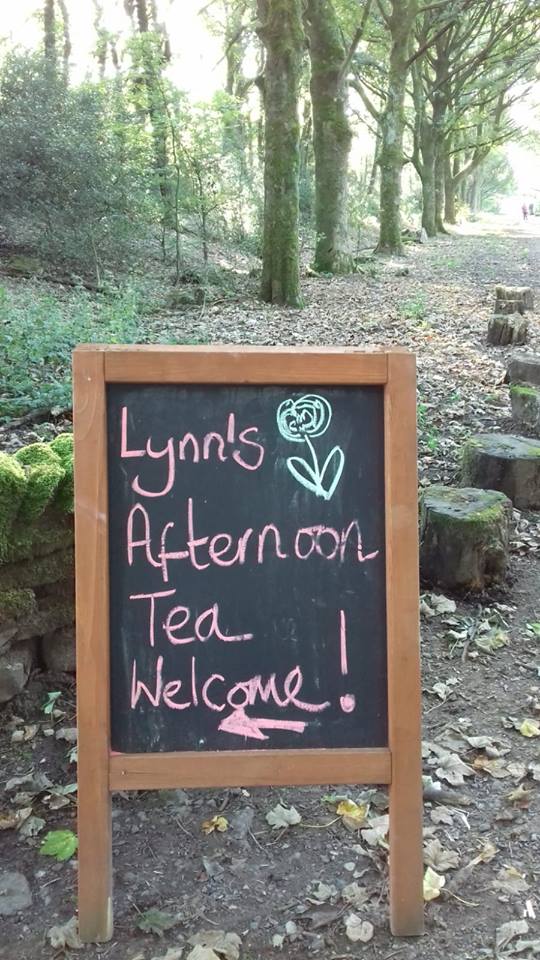 Where to Stay
Wilcocks Farm Caravan Site – Nestled at the foot of Winter Hill, this lovely caravan site is a perfect base from which to visit the Terraced Gardens.
The Bay Horse, Adlington – Located a stone's throw from Lever Park, the Bay Horse offers accommodation, a friendly atmosphere, local beers and a great menu.
Home Farm Caravan Site – Home Farm Caravan site sits just above the reservoir at Rivington and is a short walk from Lever Park and the Terraced Gardens.
The Anderton Centre – The Anderton Centre is an Outdoor Education and conference venue which offers a whole host of activities.