Rivington Music Festival 2021: Friday 16th July – Sunday 18th July
16 July 2021
From Friday - 7pm, Sat & Sun 1pm to All days - 10.30pm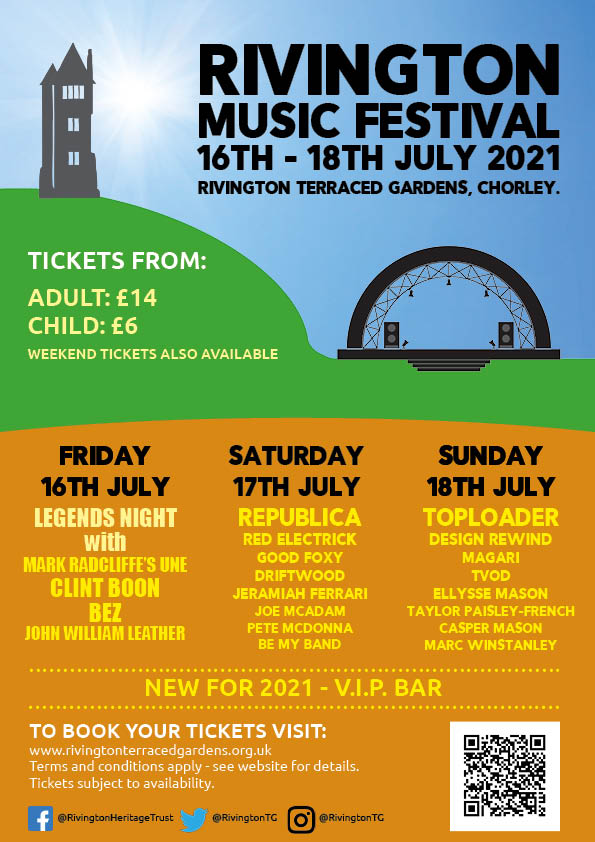 This year's Rivington Music Festival will, for the first time be a three day event.  It will take place from Friday 16th July to Sunday 18th July.
We have a great mix of Heritage Acts and local favourites as well as a great selection of food, drinks and treats.
With thousands of people expected, this will be an unforgettable event in an incredible and completely unique venue.
Sustainability:
We are committed to delivering a Sustainable event. This year, in order to minimise plastic waste we are including a £1 donation with each ticket to cover the cost of a reusable Branded cup, you will be given the cup on arrival and be asked to use it throughout the event. You can keep it as a souvenir or donate it back to us when you leave.
Please Note:  READ BEFORE PURCHASING TICKETS
You will not receive a physical ticket for this event.  Your booking confirmation email will suffice.  We will check that against our attendance list on your arrival so do remember to bring it with you.
If you haven't visited the Gardens before be aware that they sit at 900ft above sea level.  The tracks to the Gardens are steep and uneven in places.  If you have any access concerns please contact us before booking your tickets.  We can offer a lift FOC up and down the hill subject to some restrictions.
Covid 19 – We will make every effort to deliver the event as safely as possible and will follow all Government Guidelines.  We ask that you work with our team and volunteers as much as possible to keep everyone safe.  This may include being asked to wear a mask or use hand sanitiser when making a purchase from a vendor.  We reserve the right to eject anyone refusing to do so (without a legitimate exemption) from the Event.
For safety this event is strictly Assistance dogs only.
Children under 5 are free.
Tickets now on sale:             Friday       –       Saturday      –     Sunday       –       Weekend