Rivington Music Festival 2021: Friday 16th July – Sunday 18th July
16 July 2021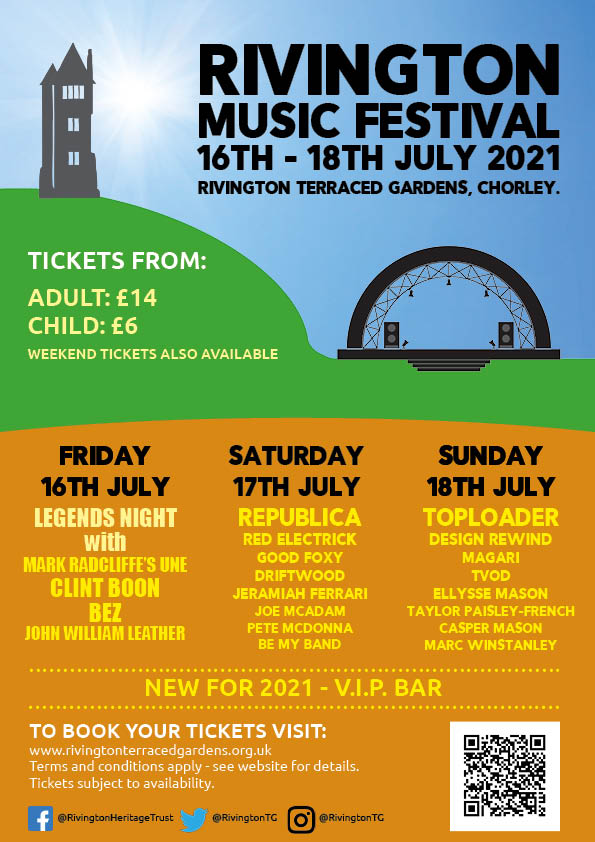 Event Update:  Following the Governments decision to extend the Covid 19 lockdown, public confidence in events appears to have been severely knocked. We sold 800 tickets over our first weekend of sales then the Prime Minister announced an extension to lockdown on the Monday.  Since then we have sold just 250 more tickets…
Despite the very best efforts of our team and volunteers to ensure we could deliver the event in a Covid secure way it has become clear that we will not be able to sell enough tickets to cover the cost of hosting the Music Festival this year.  We cannot afford to run the event with around half capacity – not least because it would further affect your enjoyment,  and have therefore taken the difficult decision to cancel the event.  Even with this decision we will lose around £3,000 in unrecoverable cost.
Please accept our apologies and rest assured, if you have bought tickets we will issue a full refund to you as quickly as we can.  We have begun that process today and should have it completed by Friday evening.
As a small charity events are the lifeblood of our fundraising and a second year of hardship is truly devastating for our Board and for the future of the Terraced Gardens.  Your understanding and support is more important now than it has ever been.
Finally, we would also like to thank our staff, volunteers, vendors, our PR team, Chorley Licensing and Chorley Police for their support to this point.